T'z Aiko
Interview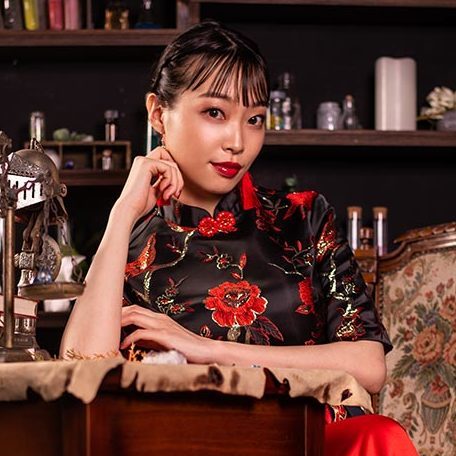 -(Interviewer) Let's talk about your background.
First of all, your surname 'Tezeni' is really an unusual name and I have never encountered your family name during my life.
-(Aiko) Absolutely!(lol)
I have never met anyone with the same name especially in that pronunciation.
My grandpa had moved to the Kanto area and it seems that the last name 'Tezeni 'originates in 'Izumo Taisha' in Shimane prefecture, as there is 'Tezen Museum House.'
-(Interviewer) Wow!
What a family name dating back to the Museum House!
'Izumo Taisha' is known for match-making God, isn't it?
-(Aiko)Yeah,that's it!
I was also surprised to hear it for the first time.
Ah, 'match-making..' Perhaps, thanks to the power of 'Izumo Taisha', I have been a lucky girl and helped by my surrounded people.
However, I'm from Yokohama in the Kanto area, though(lol).
-(Interviewer)By the way, speaking of your grandfather, is your family a musical family?
-(Aiko) Not everyone plays music instrument but I can say my family is musical and artistic kind.
My parents are both radio program directors.
My grandpa was an industrial designer renowned for the 'S mark' design of Suzuki Motor Corporation and N700 train vehicle design.
He also design the first model of Nissan "president".
Actually, 'Tz' mark on our website was designed by my grandpa.
-(Interviewer) Your parents are both radio directors and your grandfather was an industrial designer…you sure are a part of the artistic family.
I am impressed about the story about the design of your website logo mark 'Tz'.
-(Aiko) I am thankful for my background.
Without knowing, I may be heavily influenced by my family.
-(Interviewer) Would you tell me what prompted you to start playing music and how old you were then?
-(Aiko) At first, my kindergarten teacher inspired me.
I used to love singing since I was small.
And my first music class was the piano lesson.
I started playing the piano when I was 5 and my friends' mom as my teacher.
-(Interviewer) You were not planning to become a musician at first.
And singing and playing the piano was your first encounter with music.
Then how did you start with the saxophone?
-(Aiko) At that time, I didn't think of becoming a musician.
I had other lessons such as basketball, swimming, Karate besides piano lessons.
My turning point was marked by the movie 'Swing Girls!', you know?
After watching the movie, I joined the brass band club in my junior high school and chose to play the saxophone, the same instrument the main character of the movie played.
I highly recommend that movie, I'm sure you will be inspired.
-(Interviewer) I know the movie 'Swing Girls!'
It is a story about the brass band club in high school.
I can see that many people got inspired to start playing music.
I am surprised to hear that you used to play sports, not just playing music.
-(Aiko) I tried everything I was interested in, whatever it was.
I took the piano lesson but I was never stressed about it and I simply enjoyed doing it with my own pace.
I didn't like to take much time practicing piano, but I didn't want to be thought of as a poor pianist.
So on my way to the piano teacher's house, I used to read music sheets in the car. (lol)
-(Interviewer) In the car?
Wow! It must train you to practice reading music at first sight!
-(Aiko) Exactly, yes!
It's really true, it helped me to read music sheets quickly at first sight.
Thanks to this, I had no trouble with examination for the Tokyo College of Music.
-(Interviewer) After that, you went to Yaei high school(public), the only school with music department in the Kanagawa prefecture.
Did you continue to play the saxophone and the piano in high school?
-(Aiko) Of course!
I heard about the public high school where I could learn music.
I took a trial class before the exam.
There I met many talented teachers and I made the decision to join immediately for the perfect environment for learning music.
At school, I majored in saxophone and minored in piano.
I also started learning classic saxophone in earnest then.
-(Interviewer) After graduating Yaei high school, you went to Tokyo College of Music.
Did you start thinking about your future to become a musician?
-(Aiko) Actually, I have always been keeping my own pace and making a decision with my instinct when I have to choose my important matter.
About the choice of a future path, as I studied music in Yaei high school, so naturally I decided to enter Tokyo College of music.
I just wanted to learn classic music at college, Then I met my teacher, who is now a former teacher, at the orientation meeting before the exam.
He said to me,
'Ms. Tezeni, What do you think is the most important thing to stay as a professional musician?
I believe it is 'good luck and personal connections.'
I'm really impressed with his words and it's enough to me to decide to take an exam at Tokyo College of Music.
Although I decided my future path, I didn't think about becoming a professional musician yet… because I started a part-time job as I started college.
-(Interviewer) Starting a part-time job?
I cannot imagine that from the life of a music college student.
When you took part in the orientation of college, you were in the senior in high school(17 years old) and only for the word, 'good luck and personal connections', you decided on your future path so decisively.
-(Aiko) Yes, perhaps(lol).
Now I can understand what he said, but at that time, I didn't get much meaning of itself.
But I had a certain feeling that learning from a great teacher like him would help me see what I could not see.
-(Interviewer) I can obviously say your instinct was right.
So would you tell me about your part-time job?
-(Aiko) Yes, it's not too much to say that a part-time job made me who I am today.
Sadly, in Japan, we hear people say, 'Musicians and experts excel in their specialty but in other areas, they are often so clueless.'
-(Interviewer) Surely, it may be so…
-(Aiko) I thought about the reason why people say this and got to the conclusion from my own experience.
Most musicians may be active in their own music field.
But they have not worked in any organizations and have little experience with the real world.
So I felt it's necessary to have as much experience as possible in part-time jobs and tried as much part-time work as I could, with a motto 'part-time jobs are not merely jobs but valuable life experiences'.
-(Interviewer) What kind of work did you do?
-(Aiko) For example, I became a Disney cast because I wanted to take 'on the job training' of Disneyland in my teenager.
I was also a beer vendor of Tokyo Dome, as it was known as a hard work mentally and physically.
I tried other jobs, such as emceeing at TV shows and events, modeling, working in the office, serving customers and so on.
Through various part-time jobs, I got to learn how it is like to work in organizations and how to build personal connections in the real world.
-(Interviewer) Even if many realize the same thought, very few would act on it like you did.
-(Aiko) I have one life to live.
So I try to live my life with no regret.
I worked in a reckless manner in my student days.
I had several part-time jobs simultaneously, as if I were a working fighter (lol).
-(Interviewer) Fighter? (lol)
It is very rare that people in teens and twenties experience so many jobs while they are in college.
I am sure there were a lot to learn from them.
-(Aiko) Through the part-time jobs, I met many people across different generations and learned a lot from them.
Although a part-time job was important to me, my main job was to study music at college, so I really had to be mindful of my study schedule.
Based on that experience, I got to acquire an ability to manage the schedule, which helps me a lot today.
-(Interviewer) Not everyone can make use of one's experience like you.
After that your energetic college days, you get your conclusion to become a professional musician?
-(Aiko) It is not that I choose a musician as work, I can express myself properly through music.
If I have a talent of dancing, I may become a professional dancer .(lol)
In short, I find joy in moving people's hearts through my music.
-(Interviewer) Through all your experiences, you are doing various kinds of work after graduating college.
-(Aiko) I should say I'm an acquisitive person(lol), and I want to do my best always in every field which I engage in.
-(Interviewer) You seem to have a competitive character from your childhood, when you take piano lessons.
Let's see about your recent work, of course playing the saxophone, and the other, playing the piano, sing a song, instructing, MC, modeling… it's surely various kinds of work!
-(Aiko) Well, I'm 'Multiple Talent Artist'(lol)
-(Interviewer) That's sounds great!
I'm curious about your being positive always, what is your secret for remaining always optimistic.
-(Aiko) My motto is ' I can enjoy myself, anytime, anywhere!'
I always have an optimistic mind and it makes my life more interesting.
I still have a lot to learn, so I would like to keep up my ambition, curiosity and endurance.
-(Interviewer) Thank you for this interview, then in the last, could you give us your any comments for your fans and audiences?
-(Aiko) First of all, I really thank to my parents who brings me up, families who are supporting me, friends and my fans…
All people who have concerned with me, I'd like to express my appreciation from bottom of my heart.
Because of you, I can live a happy life everyday and I promise to continue always improving.
Thank you for reading my interview.
T'z Aiko- Tezeni Aiko